After some well attended early season training weekends, the Spitfires returned to Datchet as part of the fast cat open on 19th/20th March.
With wind on Saturday a gusty 15 knots, boats were twin-wiring right from the first start. Sophie & William Heritage tacked off early and sped away to be first at the windward mark. They sustained a comfortable lead while 2015 Youth Worlds representatives Jack Butters and James King held off the rest of the fleet in second. A battle ensued for third and Theo Williams & Ryan Gill, who had fought off William Smith and Ben Harris for most of the race, lost out on the last downwind leg, leaving Smith/Harris in third.
Race 2 was closely fought between Sophie & William and William & Ben. Late in the race, Bill and Ben found some extra flower pot power to squeeze past the Heritages, taking their first ever race win, sailing together for only the second time.
After a general recall, the restart of race 3 saw Ben's dad Olly Harris & Tom Holland racing amongst the top boats. The two RYA Youth Squad boats of Sophie & William and Jack & James fought for first place with Sophie & William coming out on top. In third place was William/Ben, with Tom King & Tyler Stonebridge beating Olly & Tom to the line by just 5 seconds.
Race four saw a reversal of the leading two boats with Smith/Harris in third. Fourth was taken by Williams/Gill, a few seconds ahead of King/Stonebridge. Olly and Tom retired after a huge spinnaker tangle, blowing their chances with a second DNF of the day.

Sunday morning saw slightly lighter winds and a close first race between Sophie & William and Jack & James with the latter beating them by only 5 seconds. William and Ben just managed to pass Tom and Tyler on the last leg for third.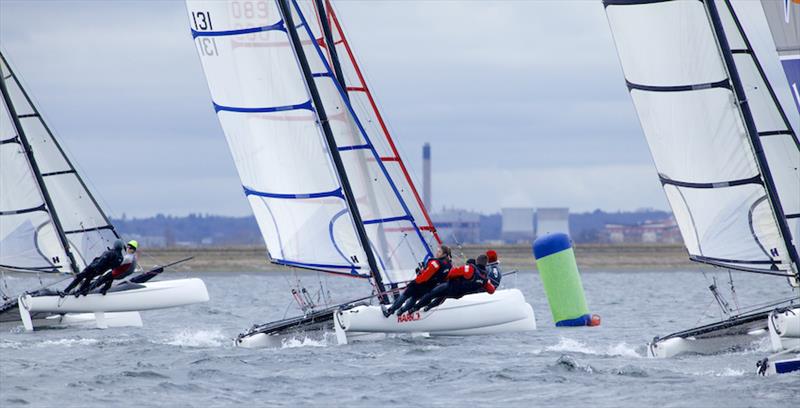 The order at the front was the same for the next race with the decision about which side of the course to take being very tricky and many places changing as a result. Theo and Ryan capsized downwind putting them well behind. In the penultimate race, Olly and Tom got a good start and finally found their downwind speed to race the top two boats with Will and Ben finishing a few seconds later.
After sticking themselves to the committee boat at the start of the last race, Will and Ben began way behind the rest of the fleet. Meanwhile, Olly and Tom kept up with the two RYA squad boats. But Will and Ben were fast catching up and making the right decisions on one lap lifted them from last into second, finishing just behind Jack and James. Tom and Tyler took third place, having passed Sophie/ William and Olly/ Tom through smart choices upwind.
This was a great start to the season, with the Spitfires also doing very well against the handicap fleet of 20 footers and F16s. It was good to see some past (and present) Spitfire sailors competing in the F18 fleet, as well as 2015 Youth nationals winner Sam Barker sailing a Nacra 17, showing that the Spitfire is a perfect boat to feed into these classes.
Thanks go to Datchet Water Sailing Club and especially race officer, Barry Peters for such a well-run event. The race management was amazing, with very short turnarounds much appreciated on a cold weekend. Also, thanks to Iain Philpott for some stunning photos. See more on www.facebook.com/UKCRAyouth
The next Spitfire Grand Prix event is at Minnis Bay on the 21st-22nd of May, however many of the youth sailors will be attending the RYA Youth Nationals in Pwllheli from the 2nd to the 8th of April.
The Spitfire has a program of 6 Grand Prix events, plus Nationals, Inlands and open training weekends organised by UKCRA. Used boats are currently available and great value – whether you are an adult or youth sailor, come and join the fun.
Overall Results:
1st Jack Butters & James King, 128
2nd Sophie & William Heritage, 131
3rd William Smith & Ben Harris, 053
4th Tom King & Tyler Stonebridge, 160
5th Olly Harris & Tom Holland, 089
6th Theo Williams & Ryan Gill, 136