Brightlingsea is seen by many as the spiritual home of UK cat sailing and every 2 years Reg Fest attracts the top sailors to remember Reg White and his life-long achievements, to have a party and for some serious racing with a great atmosphere of family and friends. Therefore a very fitting venue for the 2016 Spitfire Nationals which saw a number of new faces and a really mixed fleet of youth, adult and parent/ child teams. The sailors included Rupert and Henry White, both previous Nationals winners and back on a Spitfire for the first time in a few years and hoping to challenge Jack Butters and James King, 2015 winners and the team who will represent GBR at the 2016 Youth Wold Championships in New Zealand.
Saturday started in about 10 knots and a flood tide. Olly/ Ben Harris just failed to pull off a port tack start and the fleet split, with the left turning out the best route. Marcus and Abbie Wallace, the lightest team at just over 100 Kg with Abbie being the youngest sailor at 11, showed fantastic light wind speed and great tactics to stay in front of Olly and Ben for most of the race. With Jack / James racing team White for 3rd. In the second race, the wind had increased, with thunder storms out to sea and over the town causing a short delay. This time Jack/ James and Rupert/ Henry got away a little, enjoying the faster conditions. Matthew Mc Robbie and Molly Desorgher had speed and height upwind, despite their light weight and Olly/ Ben only got away from them late in the race when Grafham's Will and Megan Smith also found great downwind speed to take 4th. It was great to see local James Stacey, racing in a Spitfire event for the first time, well up the fleet at times. Tim Johnson, BSCA and UKRA Youth co-ordinator swapped a RIB for helming for his daughter Becki and loving it.
Race 3 was in very nice moderate conditions and the big battle at the front was between team White and team Harris. With the tide now ebbing strongly and generating steep wind over tide waves, choosing the right route downwind, out of the tide but using the waves was key. White and Harris both went hard right towards Point Clear and when White bluff- gybed, Harris fell for it but found himself at a perfect angle for a hot fast run to the gate, overtaking White. After a similar final run, the order was Harris, White, Butters/ King, with that also being the overnight standings, separated by only one point.
As well as the racing, Brightlingsea SC is famous for it's sailors free afternoon tea, kindly sponsored by English Braids. It's also known for the Saturday night band "Contraband" and the party that goes with it. Rob White's power of persuasion got a lot of people onto the dance floor from grandparents to teenagers and despite the efforts of team White (thanks for the shots guys), their competition all made it through to Sunday in reasonable condition.
That was just as well as it was a full-on day. A few ventured out to the start but decided that it was a bit too wild for them, others swam early in the proceedings. Butters/ King and team White reached the windward mark slightly ahead, to then give a demonstration of how to sail a fast cat in a breeze and pulling away from the fleet. Olly and Ben chased them and as William/ Megan closed in with blistering downwind sailing, they turned the speed on to keep them off, taking 3rd. New youth helm Flynn Luxton only got his boat the previous day but with dad Gavin crewing, was quickly learning how to make it go, with some fancy acrobatics from Gavin on the wire (mostly) at the back downwind!
The wind was not easing off and race 5 saw a tight start and team Harris tacking off to go right. That proved to be a bad decision as they spent the race fighting their way back, with some fantastic close racing on the way, especially with team Smith who were on fire downwind, only passing them on the last run, to then hit the leeward mark and drop back to 4th. Meanwhile, Butters/ King and team White had pulled well out to take 1st/ 2nd. Marcus and Abbie, not at all at home in the strong conditions, were surviving incredibly well and beat team Luxton into 5th after they stuck their mast in the mud.
The final race was the windiest, with the ride downwind getting wilder and putting a real premium on boat handling. The order at the front was the same, with Rupert and Jack both making great starts at the pin end to go left and Jack leading until an impressive capsize on the spacer reach dropped them back. Such is the skill of these guys that they were back to 2nd place very quickly, with Rupert and Henry winning. Flynn and Gavin were storming along, but William/ Megan passed them eventually to take 3rd.
Overall, Jack and James won by one point (the second Nationals win for Jack) with Rupert and Henry White second and Olly & Ben Harris third. We wish Jack and James the very best of luck at the Youth Worlds.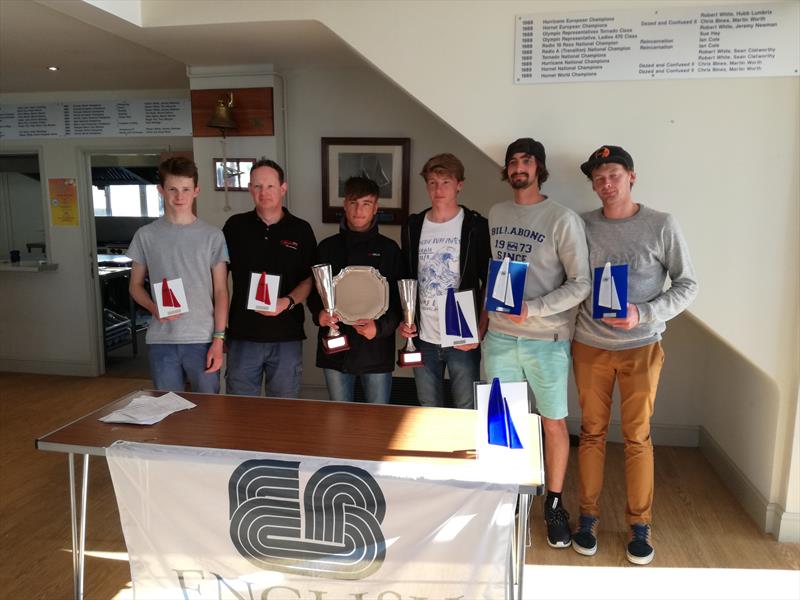 It was an awesome event, at one of the friendliest and best organised clubs you will find. Thanks to all the volunteers from Brightlingsea Sailing Club, race officer Piers Lambert, the White family and also to White Formula Ltd for their continued great support of the Spitfire class. It was great to see an increase in the number of adults racing this year. Next is a training weekend at Grafham, followed by the Inlands.
Photos:
Photos from Champion Marine Photography
Overall Results:
| Pos | Helm | Crew | Club | Pts |
| --- | --- | --- | --- | --- |
| 1st | Jack Butters | James King | Brightlingsea | 8 |
| 2nd | Rupert White | Henry White | Brightlingsea | 9 |
| 3rd | Olly Harris | Ben Harris | Weston | 13 |
| 4th | Will Smith | Megan Smith | Grafham | 19 |
| 5th | Marcus Wallace | Abbie Wallace | Blackwater | 23 |
| 6th | Flynn Wxten | Gavin Wxten | Royal Lymington | 29 |
| 7th | Matthew McRobbie | Molly Desorgher | Rutland Water | 37 |
| 8th | James Stacey | Richard Hanmore | Brightlingsea | 44 |
| 9th | Tony Stokes | Stewart Smith | Grafham Water | 47 |
| 10th | Tim Johnson | Becki Johnson | Weston | 50 |