September has been a busy month, starting with a weekend of new local youth sailors trying out the Spitfire and the Nacra 15 at Weston Sailing Club. The following weekend was Stokes Bay Cat Open and Spitfire Grand Prix, where sailors were greeted by 20-25 knots of wind and big Solent chop.
One race was completed for the 7 Spitfires, with only father and son team, Olly and Ben Harris managing to stay upright around the course and taking first place. On the Sunday, sunshine and Force 3-4 made for fantastic close racing. Olly and Ben's downwind speed helped them stay ahead in all 3 races, proving that adult experience can sometimes help against the very quick youth sailors! Matt McRobbie and Molly Desorgher took a well-earned 2nd place in the second race of the day, putting them in 3rd place overall, just behind Alex Philpott and Jess D'Arcy in 2nd.
Weston Cat Open was held last weekend with the Spitfires within the large fast handicap fleet. Wind on Saturday was averaging around 17 knots, with gust reaching into the early 20s. Olly Harris sailing with Alex Hamel finished first Spitfire in Race 1, just behind last year's national champions, Jack Butters and James King sailing their new Nacra 15. The second and third races saw some full on sailing, plenty of capsizes and a similar order. A great day for getting to grips with new boats- Spitfire sailor Will Smith was learning his foiling A Class, Ben Harris and AJ Luxton were racing the demo Nacra 15 for the first time and Flynn Luxton was sailing on the famous yellow Spitfire with Megan Smith.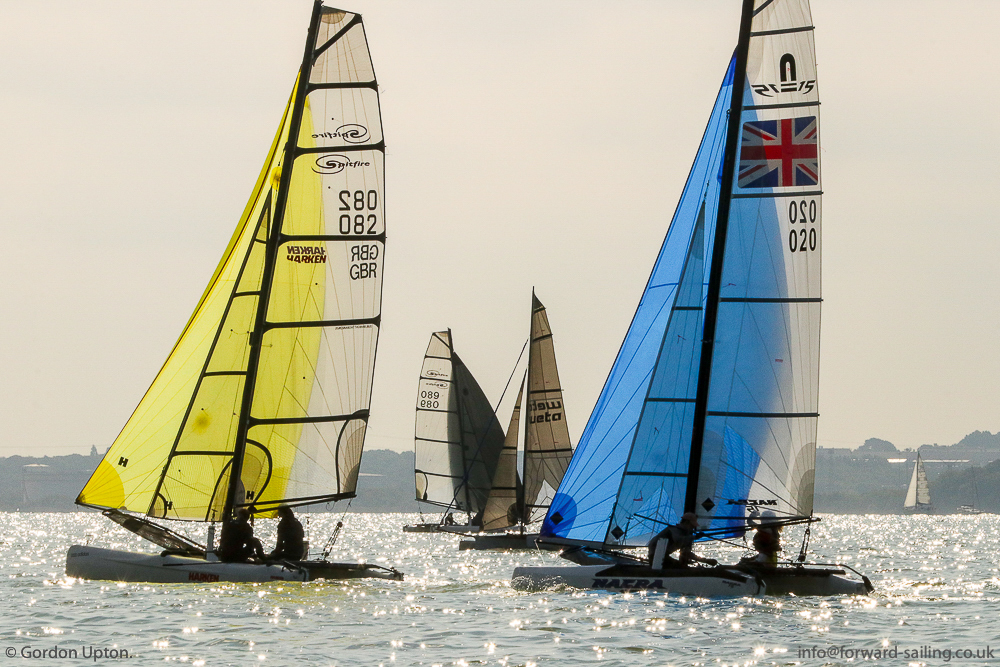 Sunday morning arrived after a great night of music and food in the club, but the wind didn't. After a half hour postponement, boats began to launch into what seemed to be a building breeze. However the wind remained very light and shifty all day, making the racing all about who could find and stay in the pressure. Lotte and Becki Johnson enjoyed the light conditions to beat Olly/ Alex in race 5 and Jack and James found their light wind speed to come 7th overall with Olly and Alex first Spitfire in 9th.
It has been great to see so many new cat sailors out in the past few weeks. The opportunity to line up against the likes of past Moth World Champion Chris Rashley, Paul Larsen, the fastest sailor on the planet and Rio 2016 Nacra 17 sailor Carolina Werner is quite inspiring.
These were two fantastically well run events and with the Spitfire Nationals on 1st / 2nd October at Brightlingsea and then a full winter training program, there is a lot to look forward to.
The UKCRA owned yellow Spitfire has been especially busy this month helping dinghy sailors discover that the future is on two hulls. If you would like to try it, get in touch with UKCRA Youth or the British Spitfire Class Association.
Weston Cat Open Results