Stokes Bay Sailing Club welcomed the Spitfire National Championships, sponsored by Zhik and Wordstop, to their cat TT on 5/6th September. With 15 boats, and competitors arriving from as far afield as Cornwall, Suffolk, and Rutland to a beautiful late summer weekend, the stage was set for a great weekend of racing. Briefing by Race Officer Richard on Saturday morning indicated a heightened level of fear at the thought of the Spitfires bearing down on the Vortex Nationals competitors, to warrant both counselling and a separate start line on Sunday; fears did not materialise and a great weekend of sailing ensued. 
Saturday starts were slightly delayed waiting for the wind to fill from the North, allowing 'mature student' Kevin Cummerson time to offer some of the new youth teams competing for the first time the wealth of his considerable experience and knowledge of avoiding capsize moments…. And as the first gusts came in, you guessed it … Kevin and crew, Christian Mash, showed great competitiveness all weekend and proved that the youth squad competitors don't have it all their own way. 
As the wind built throughout the day some of the new teams started to appreciate the thrill of Spitfire catamaran sailing, and were mightily impressive, keeping some of the more seasoned campaigners at bay. Tricky starts and downwind blasts were prevalent throughout the fleet, a large standing wave at the end of the first race making life difficult. Even a twister was spotted on the IOW.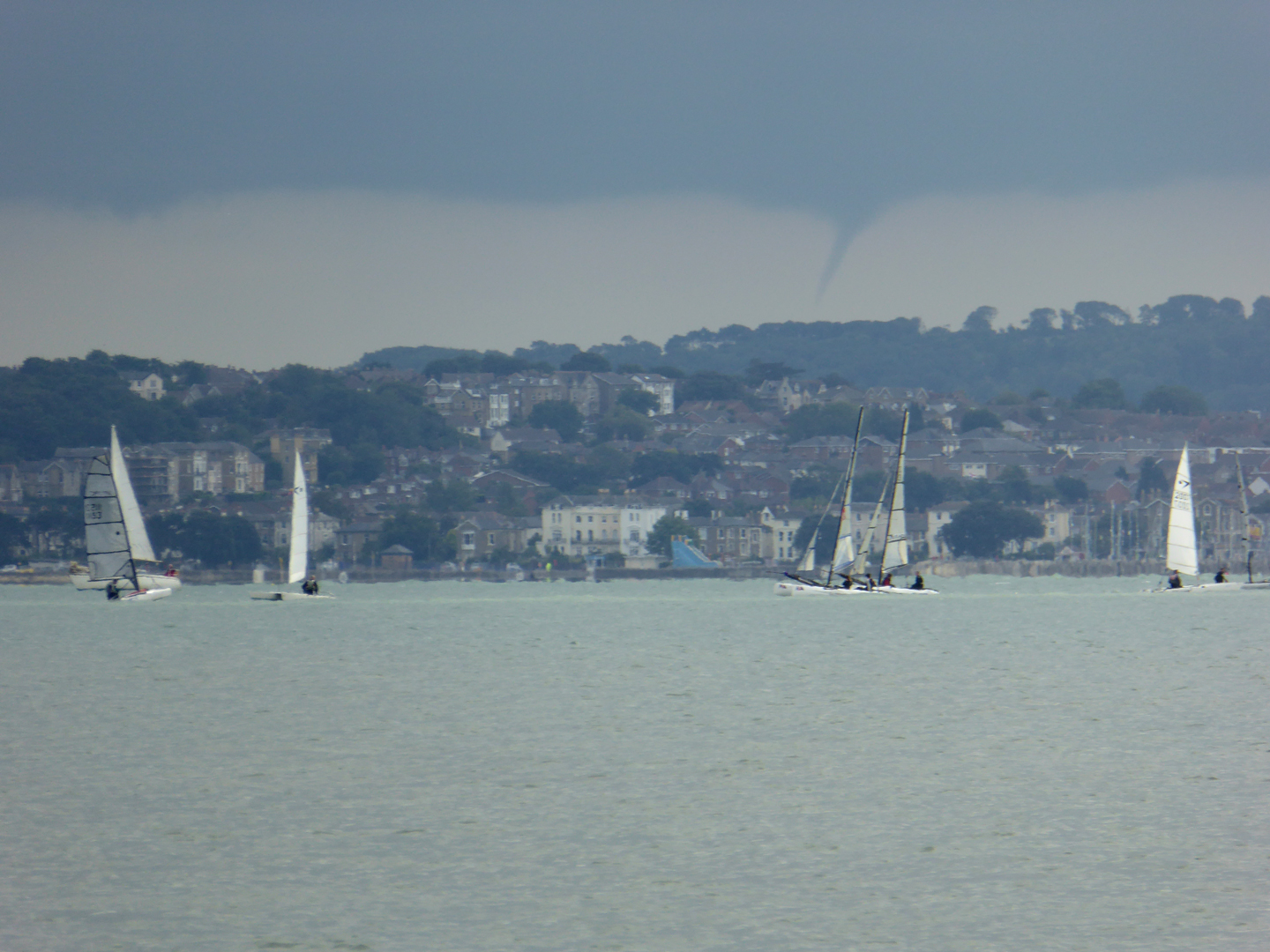 Thanks to some excellent course management, 4 close fought races were completed on Saturday, with the two top youth teams (Butters/James & Philpot/D'Arcy) emerging as clear favourites, sharing two bullets each and a joint overnight lead of 4 points. Upwind speed was particularly impressive from both teams who have improved tremendously as the Spitfire traveller series has progressed. With father and son combination of Olly and Ben Harris holding strong in 3rd place overall, the rest of the fleet showed flashes of brilliance ensuring the racing was always exciting and nothing was guaranteed. 
After a superb curry night, followed by local band and free on-site camping, competitors arose on Sunday to uncertain conditions. Bright blue skies and building temperatures ensured a sea breeze filled in and, once again, great course management meant that a 5th race was completed before abandoning race 6 due to light, variable winds in a ripping tide, with mid-fleet competitors struggling to make the top mark. 
Wind shifts at the start of the 5th race caught many off-guard but both Butters and Harris managed to pull off port hand flyers to hug the shoreline, bringing them towards the top mark, out of the tide and with some considerable distance on the main fleet. 
Old Spitfire hand, Ollie King (19), fresh off the plane from a summer instructing cats in France and sailing with youngest brother Tom (13), showed how to take into account all the factors in plotting your race tactics. Two truly disastrous starts on Sunday, saw 160 rounding the top mark in an impressive 3rd place both times, Ollie opting for breeze in the Bay over tide.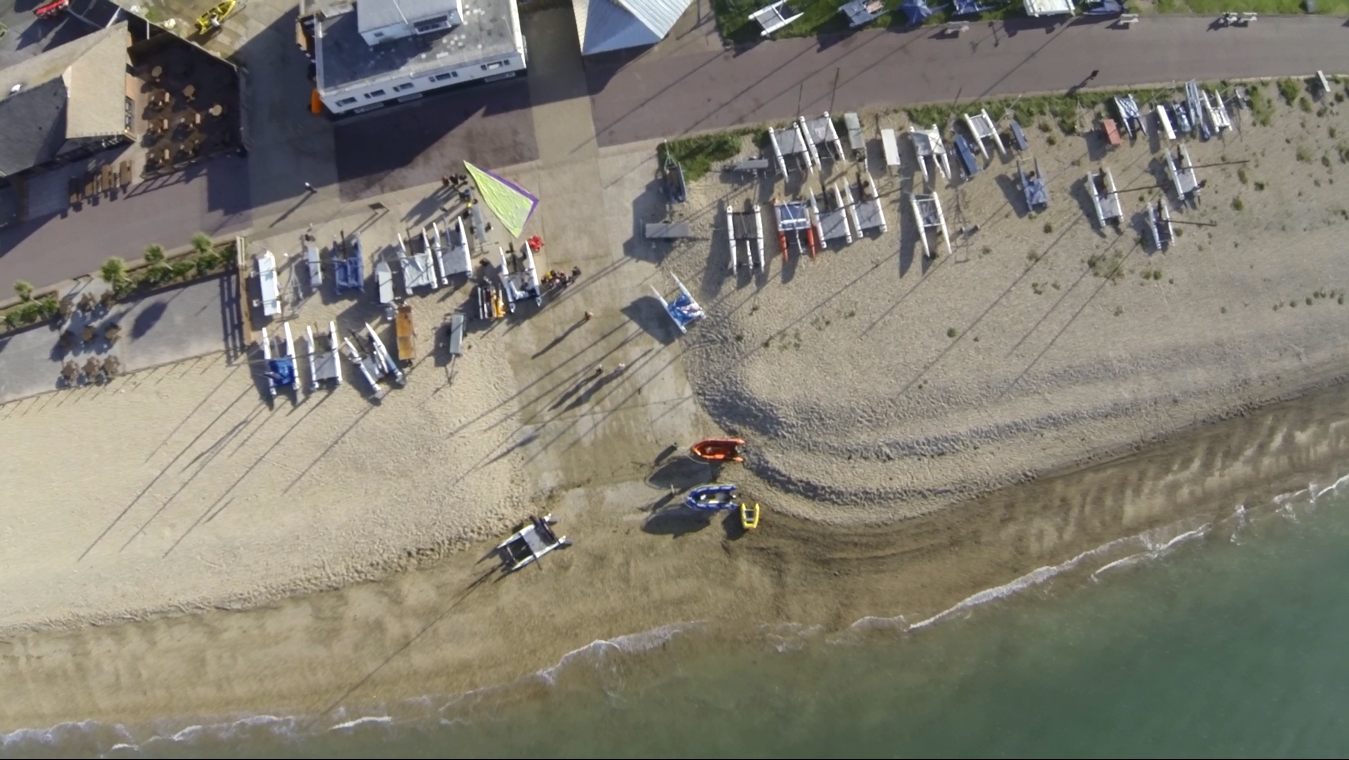 In the lighter Sunday breeze, the new teams, transitioning from feeder classes (topper, laser, etc), started to show real promise with top 5 results in some cases. A great advert for anyone considering the switch and proving the sometimes maligned technical nature of cat sailing.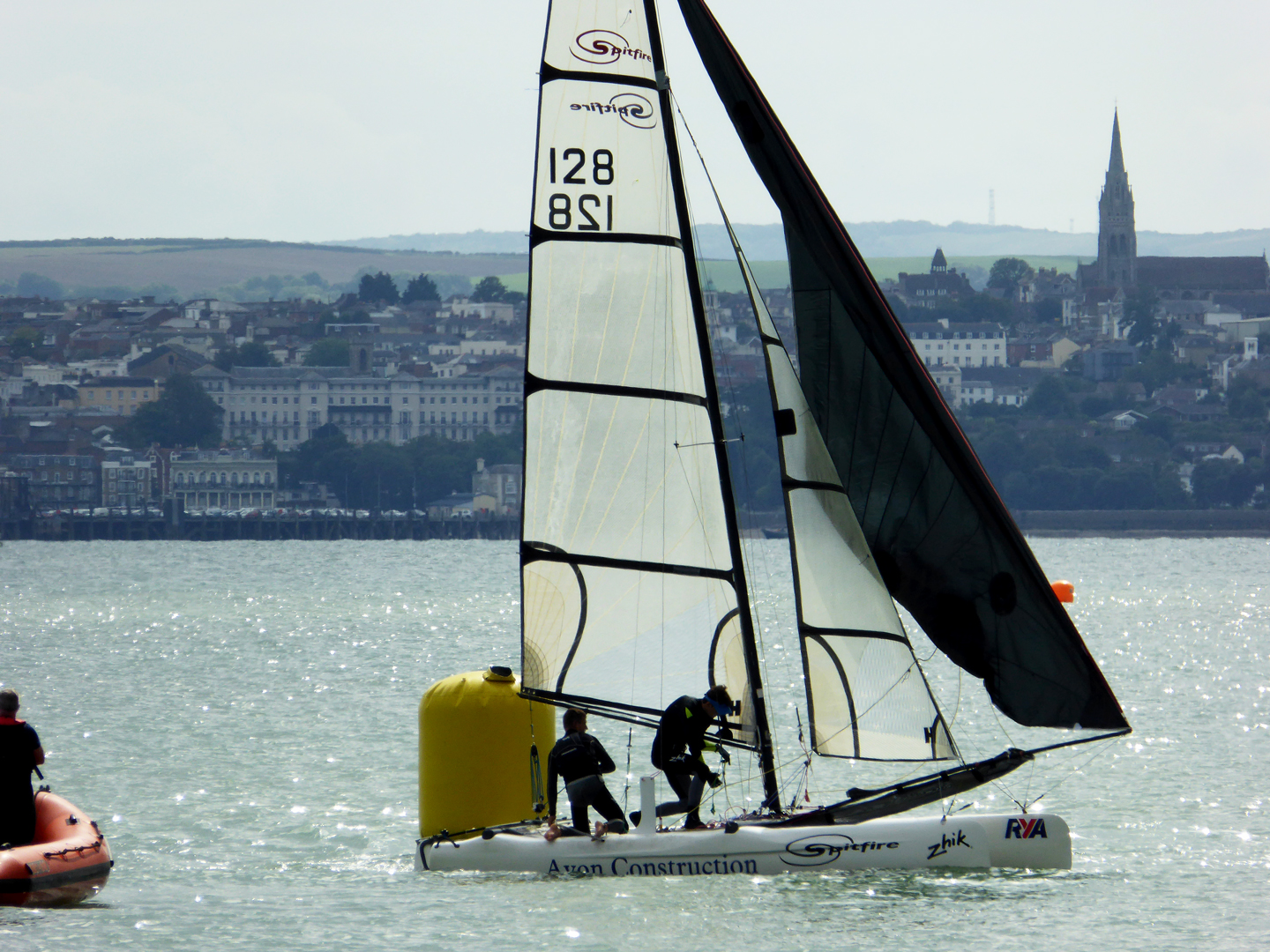 With a runaway win in the 5th race, Jack Butters (15) and Sam James (17) were crowned the 2015 Spitfire National Champions, our youngest ever Spitfire National Champs and well deserved. Agonisingly only 1 point behind in second place overall were the top mixed team of Alex Philpot (17) and Jess D'Arcy (17), who was also top female crew.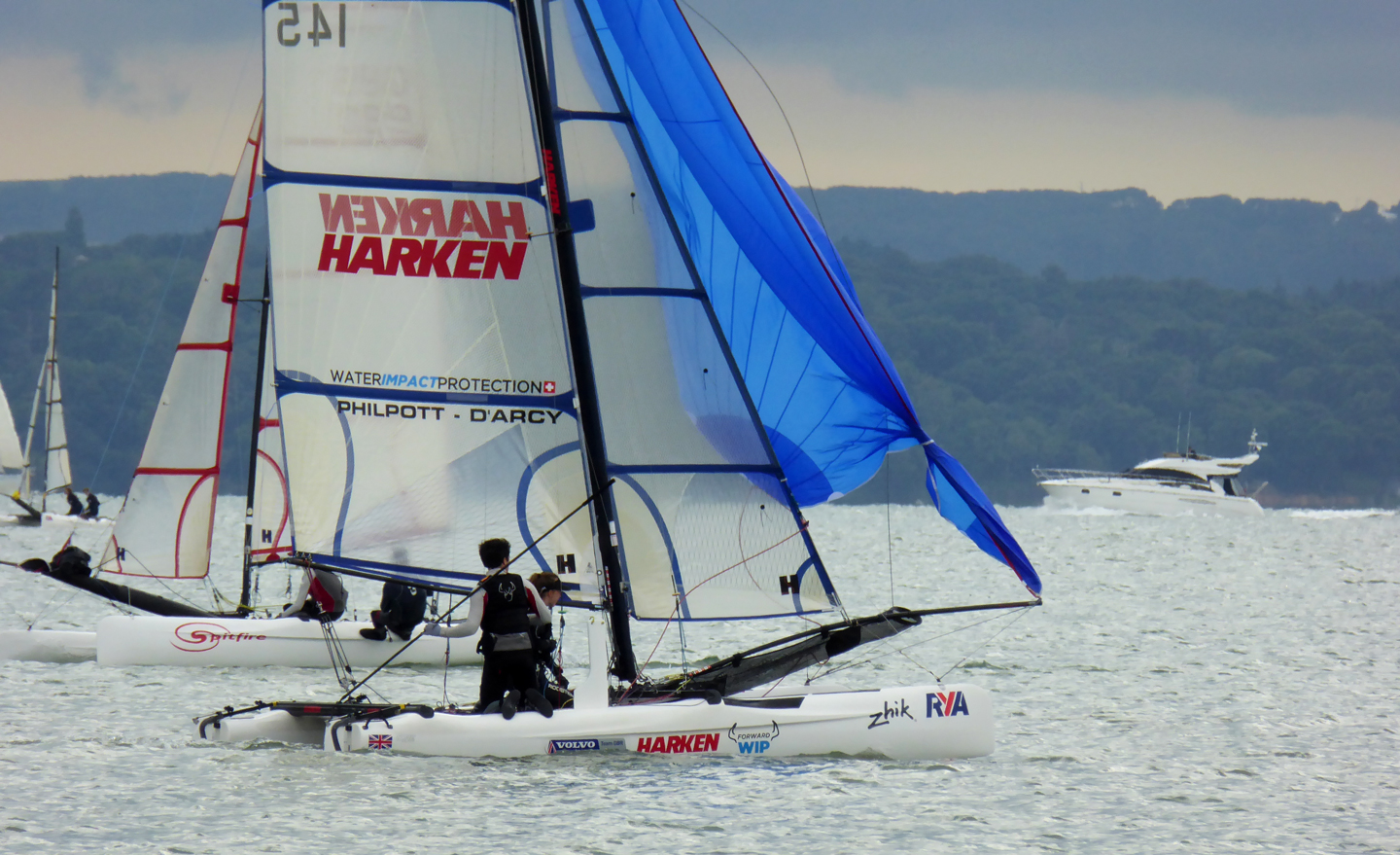 After pulling off a 2nd place in race 5, third place overall went to the very impressive William Smith (14) sailing with experience crew James King (17), together for the first time, on count back from Olly and Ben Harris in fourth. 5th place went to Sam Rowell/Nick Swain and 6th to Ollie King / Tom King – all of whom were partnering up for the first time. Prizes were awarded and our gratitude expressed to all at Stokes Bay for a fantastic and enjoyable event.  
The BSCA is very grateful to our sponsors, Wordstop and Zhik, who provided prizes from the Zhik clothing range. It is essential that competitors have something to compete for, and this really added to the occasion. Sailors, please continue to support these great organisations, without them our sport will suffer. 
Overall a successful event. In particular we were captivated by the new teams and crew on show, all of whom improved and impressed, proving that the Spitfire scene is thriving at youth level in the UK. Something that was recognised by RYA Double-Hander Youth Manager, Roy McCubbin, attending on Saturday, and by Paul Wakelin, RYA catamaran head coach, at the prize giving on Sunday. 
The Spitfires will be at the Weston Cat open at the end of September and at Grafham Cat Open for our Inland National Championships on 17/18 October – come and see what it's all about. 
Prizes Awarded
1st – Jack Butters / Sam James (Parkstone) 
2nd – Alex Philpot / Jess D'Arcy (Frensham Pond / Datchet) 
3rd – William Smith / James King (Grafham / Brightlingsea) 
Best Newcomers (7th) – Theo Williams / Ryan Gill (Restronguet) 
Most Improved (10th-5th) – Sophie and William Heritage (Gurnard) 
Top Mixed Crew – Philpot / D'Arcy (Frensham Pond / Datchet) 
Top Adult / Child – Olly and Ben Harris (Weston) 
Top all Female Boat – Megan Smith & Emilie Cummerson (Grafham) 
Top Female Helm – Eliza Cox (Whitstable) 
Top Female Crew – Jess D'Arcy (Frensham Pond / Datchet) 
Youngest Helm – William Smith (Grafham) 
Youngest Crew – Ben Harris (Weston) 
Eldest Combined Age – Kevin Cummerson / Christian Mash (Grafham) 
Funniest Moment – Sam Rowell / Nick Swain (Felixstowe Ferry) – dunking on line at end of Race 2
Results
| Rank | Sail No | Helm | Crew | Club | Race 1 | Race 2 | Race 3 | Race 4 | Race 5 | Total |
| --- | --- | --- | --- | --- | --- | --- | --- | --- | --- | --- |
| 1 | 128 | Jack Butters | Sam James | Parkstone YC | 2 | 1 | 1 | (4) | 1 | 5 |
| 2 | 145 | Alex Philpott | Jess D'arcy | Datchet Water & Frensham Pond SC | 1 | 2 | 2 | 1 | (3) | 6 |
| 3 | 53 | Will Smith | James King | Grafham Water & Brightlingsea SC | 5 | (6) | 4 | 3 | 2 | 14 |
| 4 | 89 | Oliver Harris | Ben Harris | Weston SC | 4 | 5 | 3 | 2 | (8) | 14 |
| 5 | 233 | Sam Rowell | Nick Swain | Felixstowe Ferry SC | 3 | 4 | 5 | 5 | (11) | 17 |
| 6 | 160 | Oliver King | Tom King | Brightlingsea SC | (7) | 3 | 6 | 6 | 4 | 19 |
| 7 | 136 | Theo Williams | Ryan Gill | Restronguet SC | 9 | 7 | 7 | (11) | 6 | 29 |
| 8 | 57 | Jack Collis | Nia Crockford | Marconi SC | 6 | 8 | (10) | 10 | 9 | 33 |
| 9 | 100 | Eliza Cox | Gus Cox | Whitstable YC | 8 | 9 | 9 | 7 | (14) | 33 |
| 10 | 131 | Sophie Heritage | William Heritage | Gurnard SC | 10 | 11 | 8 | (16/DNC) | 5 | 34 |
| 11 | 55 | Megan Smith | Emilie Cummerson | Grafham Water SC | (12) | 10 | 12 | 9 | 10 | 41 |
| 12 | 124 | Kevin Cummerson | Christian Mash | Grafham Water SC | 11 | 12 | 11 | 8 | (13) | 42 |
| 13 | 106 | Thomas Woodings | Molly Desorgher | Carsington SC | (16/DNF) | 13 | 14 | 12 | 7 | 46 |
| 14 | 82 | Lotte Johnson | Becki Johnson | Weston SC | 13 | 14 | 13 | (16/DNF) | 12 | 52 |
| 15 | 74 | Caleb Cooper | Matthew Cooper | Worthing SC | (16/DNC) | 16/DNC | 16/DNC | 16/DNC | 16/DNC | 64 |